2011 is an important year for vocalist/songwriter, Betsie Larkin. Having already released "You Belong To Me," with Producer Bobina, and being voted the future favorite on Armin van Buuren's "A State of Trance," there are no signs of slowing down. Betsie's work in electronic dance music has been a whirlwind ever since her first collaboration, "Made of Love," skyrocketed to the top of dance charts worldwide reaching the top 40 pop charts in Europe. As one of the most sought after voices in dance music, Betsie has had the opportunity to collaborate with some of the genre's top producers.

2011 promises the release of her first solo EDM album on Black Hole Recordings/Premier, which will feature collaborations with producers hand-picked by Betsie. Additionally, she is contributing two tracks to the artist album of Ireland's number one DJ, John O'Callaghan (Armada/April 2011). Also on the horizon is her collaboration with Super8 & Tab, "Good Times," from their critically acclaimed album, Empire.

Having spent the majority of her life around guitars, drums, and rock musicians, it was a surprise when the opportunity to work with one of the world's top DJs was presented. While always keeping a guitar in one arm, Betsie began her exploration into electronic dance music. Her collaboration with Ferry Corsten spawned two songs, the dance chart topper "Made of Love" and a rhythmic club favorite, "Feel You," both co-written by Ferry and Betsie. She joined him at the annual production of Full on Ferry at Ahoy Rotterdam, a masquerade ball with 9,000 fans in attendance and later for the Twice In A Blue Moon, "The Experience" tour that kicked off in Malaysia and traveled to cities worldwide.
"Made of Love" received overwhelming support from fans and the DJ community. It was voted the 5th track overall in 2009 on Armin Van Buuren's "A State of Trance," number one on Above and Beyond's radio, and reached the number one position on Corsten's Countdown's 100th episode.
Betsie's previous work has spanned rock, electronica, and independent work as a singer-songwriter. She began recording music and performing in Boston, MA with her former, mainly electronic-based band while attending university. They relocated to Los Angeles to tour the west coast, and complete a second record. The album received glowing reviews from music mags and local press, as well as airplay from KROQ in LA and college radio.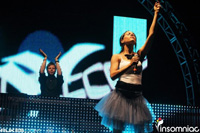 Betsie's side project, Mariposa, led to a deeper exploration of electronic music. Producer Brendan Hawkins' (Jane's Addiction, Porno for Pyros, Everytone Music) added a complex electronic palette to Betsie's soulful compositions. Initially, their tracks appealed the underground music scene in Los Angeles, but later spread with radio features and a west coast tour.

Betsie started recording her first solo material in New York City immediately after relocating from Los Angeles. Together with producer Jon D'Uva and some of New York's top musicians, she completed her first solo EP. One of these tracks, "A New Day," was later adapted by ATB for his album, Future Memories.